OFFERS

4.48

PAYOUT

4.55

TRACKING

4.49

SUPPORT

4.4
The LeadKitchen team is both dedicated and committed to providing highest level of service to all of our clients. Whether this entails striving to provide the utmost quality and targeted traffic for our Advertisers or just going above and beyond what's considered normal in helping our affiliates achieve their goals.
[More]
Affiliate Network Details
Commission Type
CPA, CPL, CPS, RevShare
Minimum Payment
No Minimum
Payment Frequency
Weekly (Monday - Sunday Paid out on Wednesday)
Tracking Software
CAKE Marketing
Tracking Link
http://fintrk.com
Affiliate Managers
Brian Holland

Chris Trafficante

Doug Price
Rating Distribution
Excellent

60

Very good

4

Average

1

Poor

0

Terrible

8
Offers

Payout

Tracking

Support
80$ for 1 year and never got paid, another scam site
I have been waiting for so long to receive my payment. What's going on?
I was promoting them for short time, noticed clicks but no converting
wasn't too suspicious until people who signed up for offers started mailing me and telling me some things. i realized that i had good amount of conversions that are not counted at all ( 0 conversions counted on my account )
MY aff manager never accepted my skype request Chris also never accepted it
All the emails i sent to them are still not answered.
Its terrible networks which will scam you
Advice stay away from it !
I am with Lead Kitchen, and they paid me and all the sudden the fast few weeks all my messages are going unanswered. I saw Chris my AM on skype 3 time, and asked him to reply no answer, Very disappointing
None will get paid now, Leadkitchen Scammed everyone.
The support is horrible, and they will never payout.
I made around $90 on this network last month from August 13th - 19th. Its not September 14th and i have not gotten my payment and every time i email Chris, he will either
1. Not Answer
2. Claim he didn't receive the email.
3. Tell me to provide him with some type of info, and then that leads to 1 or 2.
Leadkitchens offers, are pretty good, but it all goes to waste if you cannot get paid. Chris if your reading this, I will change my review if you simply pay me the money I've earned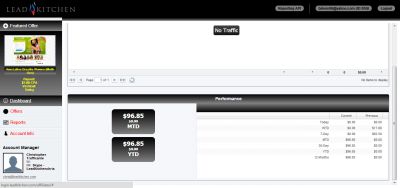 Been trying to contact you .. via eMail and sent more eMail and never received a well replied answer back from Brian except him just eMailing me back saying "Let me verify review." - That was on August 21, 2013.
My payment has been late and was never sent to me. I contacted Gao on Affpaying and what LeadKitchen told me was to eMail them to remove my negative review for them to sent the payment and yet, they haven't sent it.
I will remove this review once I have receive my $30 USD payment.
Please contact me , I also included my Affiliate ID and also contacted Affpaying about this issue, stop ignoring your eMails.
Kevin. Affiliate ID:1633
I didn't get any response on mails and also on affpaying.i think i didn't give last time 1 rating so i didn't get response.
This time i'll improve my mistake.
For lazy network i'll give lazy ratings.its enough for this network.
I got paid last 3 times also lately.
This time Chris is doing so much late.He is not replying for mails, i told him to read mails properly.But he never read on time.
I didn't see you ever online on Skype.
Just pay my last payment of $45.And close my account, i don't want to work with Leadkitchn in the future.
The network is full of frustration.
I am writing this review because my payment once again getting too late.
i also received my last 3 payments lately.
the late is because Chris never read mails on time.when i'll send min. 10 mails then he replies 1 time after a week or 2 weeks.
If you will read mails properly then you will get know that whats going on with affiliates.
You told me to send invoice of your next payments, then i sent it to you, but your wasting your time to tell me that this is not invoice.it doesn't matter that this is invoice or not.If you got my mail regarding invoice so look at my account and pay me.why are you wasting your and my time to telling me that this is not invoice.
Make your invoice yourself,i attached the screenshot $45 is pending.
You never replied mails on time, but you always reply the reviews on affpaying so i wrote here,but i dont want it.you forced me,sorry..
Pay me ASAP.
One more payment i got...
thanks
Again got paid.
thanks
I really like this networks support. I received a few payments so far and everything always goes smooth. 5 Stars *****.
I have received my first payment..
thanks chris
great network chris is very helpful and makes payments on time and when necessary.
Another payment form Leadkitchen!

Copyright © 2010-2020 Affpaying.com All rights reserved.