RevClicksMedia
OFFERS

5

PAYOUT

5

TRACKING

5

SUPPORT

5
RevClicksMedia was meticulously designed and developed to fabricate a marketplace for both Advertisers and Publishers to help succor their business, knowledge and maximize not only their revenue, but their profitability. As a private CPA network, we thoroughly understand that both advertisers and affiliates are the livelihood of our business and we succeed only when you succeed. RevClicksMedia has been on the publisher side for years now, as well as the advertiser side so we have acquired experience through trial and error on the affiliate side and advertiser side collectively, empowering and equipping both publishers and advertisers erudite support and experience from our team. We know what it takes to amplify your business. Since we work hard at building long lasting relationships with both advertisers and publishers - you can expect nothing but superior quality leads that gain instant results.
[More]
Affiliate Network Details
Number of Offers
100+ and growing
Tracking Software
In-house proprietary platform
Rating Distribution
Excellent

9

Very good

0

Average

0

Poor

0

Terrible

0
Offers

Payout

Tracking

Support
Honest and transparent company deserves an honest review. I do some good volume with this company on several offers monthly. I blocked out some info as I told Kariim ( as suggested) that I was going to show some proof of numbers. See for your self.
Work with these guys and you will not be disappointed.
I have been working with this Solid Company for over 3 years now. Solid guys and very transparent guys behind the company. My earnings increased when I started working with RCM. Private, but I like it since they take care of you. My Earnings from Last week speak for themselves. RCM always pays on time I have never received a late payment.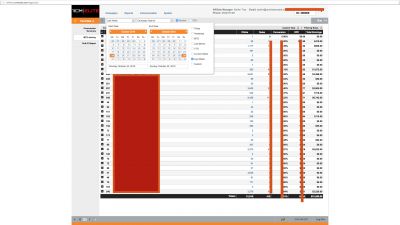 RCM all day everyday. Hell yeah. I've ended up working with this network after being shaved by another one. How I knew I was being shaved to death? Well it's quite simple one day the conversions are ok the next day it dropped by 50%. So then and there I decided to join another network. Kariim was the first to reply so I've joined in.
What was my experience with him? Simply amazing. My conversions never experienced wild fluctuations and they were even higher than on the other networks. Why? Because he doesn't shaves!!! get this through he doesn't do it because there's more than enough money to go around. This means he isn't greedy.
The tracking can be off sometimes and the pixels don't fire. But Kariim goes the extra mile and manually reviews the orders and you get credited by the end of the week? Who the hell does that? RCM they are the only one. They don't have to do it just write it off as a loss to advertisers and that's it more money for them. But no they give you the credit that is yours.
One thing to know the offer payouts are slightly lower than on other networks. This is because they don't shave. It's easy to give 10-15$ payouts if you steal every 4th sale or more. Even Kariim suggest to try out other networks and see the difference, once you've been with RCM you are not going anywhere else. I stick with him because there's 5-10$ less payout on the offers but i'm getting more money because it's not stolen from me. Just do the math.
Payments are regular as clockwork. All in all if you have traffic you will get the most money from his offers.
I'd like to drop in a leave a review for Revclicksmedia (RCM). I have been with RCM for several years now and I have to say hands down they are the BEST network I've ever worked with.
Not only do they have some of the highest converting offers, they will also work with you to ensure that your pages are converting to the max.. That means they'll also customize landers to ensure you get maximum ROI. This is especially important if you are running paid traffic.
Over the years working with RCM, I have never had a late payment.. These guys are the best in the business and customer service is number one priority both for us as publishers and their customers.
I have worked with a lot of other networks and at times I swap offers to compare and RCM always comes out on top. There are times when I would be checking my tracker and see no sales and they when I log into RCM, I see several sales credited to me.
This is because these guys are HONEST and sometimes a few sales miss the tracker on your end but they are able to see it on their end and credit it to your account. I have NEVER seen any other network do this.
So if you are looking for a network with high quality products, GREAT reputation, honest staff that will go all out to ensure their pubs are satisfied then I HIGHLY recommend RCM.
Trust me, you wont be disappointed.
RevClicksMedia is the best network I have ever worked with. I have been with the network for 2 years now. The network owner Kariim is very friendly and professional. If you have any questions he will answer them asap. The payments are always on time! You can even get payments early if you need some cash flow to keep your campaigns going.
RCM has exclusive offers Diet and Health offers that convert very well you will get high Epcs! The network also has a awesome tracking system that will show you all your campaigns data. To sum it up this network is a top notch network and is the only network that I will ever recommend to affiliates. If you want to promote exclusive offers and deal with professionals apply for the network. You wont regret working with RCM!
These guys are brilliant. Payments have always been on time and even early when I was first getting started with them.
I'm really looking forward to working with these guys in 2014!
Figure I give my two cents about RCM. If your looking for a network that looks to build a relationship with you and cater to your needs then come here. They have always taken care of me with offer requests and even sometimes early payment requests when strapped for cash on huge traffic buys.
Very Reliable and stable network indeed.
Five Stars in my book for these guys.
This is a good network to work with. A good selection of offers and most are in private for quality pubs. I've been with them for the last 8 months and I have built a good relationship with this company and they have always paid me my weekly wires on time. I would highly recommend if you are looking for a professional company that will take care of you with guaranteed payments, always reachable and very down to earth friendly guys over there.
Although RCM ( RevClicksMedia ) is a private network and does not ask for comments/reviews on their website - I figured I go ahead and write one anyone since I have been with RCM since June 2011 and working with them has been an incredible experience. I have always received payments either on time or early since they know my traffic is legitimate. They also recently switched to 95% direct advertiser relationships which helps with increased and competitive payouts and has given me higher epc's.
If you want literally some of the highest and most competitive payouts and support and always be paid on time regardless of the type of volume you do ( if your traffic is legitimate ) then try out RCM…you will reap the benefits of working with these guys.
Very laid back, straight up and honest dudes over there and I have even built a good personal relationship with the owner Kariim. Real cool and honest guy. Ill be running the majority of my traffic with them for as long as they keep providing me with good direct offers that convert well for my traffic.
Looking forward to continuing to put up the big numbers in 2012.

Copyright © 2010-2020 Affpaying.com All rights reserved.