OFFERS

4.79

PAYOUT

4.89

TRACKING

4.74

SUPPORT

4.95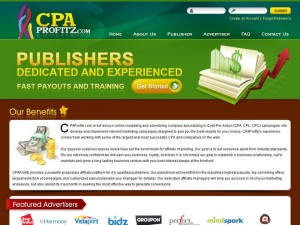 CPAProfitz is one of the fastest-growing, affiliate oriented CPA networks on the net! With over 8 years of dedicated experience with CPA, CPL, and CPC, we ensure that our vast knowledge of the industry is passed onto all our publishers. CPAProfitz offers a wide array of offers to all our publishers with the highest available payout rates anywhere! We share all exclusive offers with any affiliate producing more than $200 per month. We also offer monthly payout bonuses to all affiliates who obtain a certain amount of leads per month. Our referral rate is at 5% and is paid on NET15 to those affiliates who refer many other quality publishers. No other network offers this! CPAProfitz.com has established a publisher experience that has yet to be seen by any other network. The bottom line is, when your profitable, were profitable. We love to reward our affiliates with the highest payout, incentives, and cash bonuses possible. We excel above other networks in nearly every way to establish a great publisher experience. The CPAProfitz team welcomes all new publishers and advertisers with open arms. Join our team today and let us show you how CPAProfitz can help maximize your ROI in the least amount of time possible.
Affiliate Network Details
Commission Type
CPA , CPL , CPC
Tracking Software
HasOffers with Proprietary Technology
Affiliate Managers
James Forrester

Eric Donaldson
Rating Distribution
Excellent

18

Very good

1

Average

0

Poor

0

Terrible

0
Offers

Payout

Tracking

Support
Just got paid today from these guys. Quick and easy payment via Paypal. I am definitely running more offers. Can't say enough positive things about these guys! :)
I've been with them for about 3 months now. James is my AM and he has increased my Profit by almost 50%. No shave in leads and no delay on payment No complaints here.
CPAProfitz is Network great. Jmaes is great manager ,always be online to help me.
This is my payment for april

This is a great network. I like the offers and payouts. Timely payments and helpful AM; keep up the good work!
I've been working with CPAProfitz since May, Their boss is my good friend. Payments are always on time, and we never meet any issues with support. James is always there when I need advice, and on top of this, he helped me pick the best offers for my sites. Thumbs up for CPAProfitz!
Here's my payment from them till now
CPAProfitz is a great CPA network. As an affiliate of CPAProfitz from the begining, I have had great success promoting many of their international offers and email submit offers. My affiliate manager, James is awesome and always on top of my requests. If you're looking for a great network with boatloads of international / email submit campaigns CPAProfitz is for you.
But i think they should use new system to get more aff.
would also like to post my payment proof for this great network in case anyone's doubting they pay. totally happy with this network.
This is a kick-ass network! I haven't earned this much this easy before. If you don't believe me, here's proof!
CPAProfitz is one of the best i've ever joined. dependable AMs, great conversions and prompt payments. wish to see more offers though. still feel they have to expand in that aspect.
i've had lots of experience with cpa networks and i didn't expect much from cpaprofitz since it's small but i was pleasantly surprised at how well-managed the network was. they have nice offers that convert well and their AMs are very friendly. on-time payments too!
On time payments and exclusive offers! Amazing network to work with!
Very highly recommended!
Somebody ask for payment proof? Here you go. This is an awesome network!
Love this network! Here's why:
1. Available offers are great! Nice rates and very good conversions.
2. Affiliate support is top-notch. They're helpful but serious in maintaining only affiliates who deliver quality leads.
3. Payouts are on time. Every affiliates dream.
'Nuff said.
very good network. apart from lacking some offers i wanted to use, cpaprofitz beats out some of the bigger networks due to their nice payouts and affiliate support.
Absolutely one of the big surprise networks here. On-time payments, good offers, great AMs. They have it all! Best of all, they're good for both newbie and pro cpa marketers. Try them out. I'm sure you'll be glad you did.

Copyright © 2010-2020 Affpaying.com All rights reserved.