CPASaw
OFFERS

3.59

PAYOUT

3.24

TRACKING

3.65

SUPPORT

3.12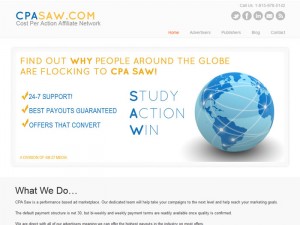 Affiliate Network Details
Rating Distribution
Excellent

7

Very good

1

Average

2

Poor

0

Terrible

7
Offers

Payout

Tracking

Support
Adam had had paid me $127 less than what I was supposed to be paid. Ever since I have told me this he has TOTALLY IGNORED ME! It's been 3 months! I send skype messages every day, e-mails a few times a week, I try calling him even but nothing. This network is a JOKE, DO NOT PROMOTE THEM. He thought just because I was making a lot of money he could try to pull this without me knowing. Like I said before, DON'T PROMOTE THESE GUYS. There are much better networks to choose from, that dont run from a hasoffers platform.
I've been waiting for a long time. Can you send me the first payment?
It's really a great network and have a very strong support. I have received my payment today. Success
The AM Adam has been really helpful the whole time. He taught me how to increase conversions, great methods and much more that a normal affiliate manager would be too lazy to do. This is def one of the best CPA companies with the best customer service.

Copyright © 2010-2020 Affpaying.com All rights reserved.