FurtherMobi
OFFERS

4.94

PAYOUT

4.99

TRACKING

4.97

SUPPORT

4.97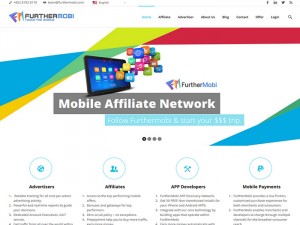 FurtherMobi provides you personalized service, daily optimizations and professional Account Managers, we are led by the most experienced online marketing specialists. We provide our customers with a combination of traffic knowledge, sales oriented methodology and strong online marketing tactics to succeed in your publishing or advertising performance. As the fast development of electronic production utilization, more and more people begin to reply on the mobile and search the information through the mobile browser. Furthermobi is one of the new trendy network to focus on the mobile internet users. We are an internationally performance marketing network company with creative cost effective solutions and brand placements on top websites across display, mobile, and social media. We are not only a network, the more we have is the responsibility to advertiser and publisher. Furthermobi is a creative tool to combine advertisers and publishers to the positive effect of increased promotion to products and massively enhanced sales. To make both advertiser and affiliate happy is our only goal. Choose us, choose success!
[More]
Affiliate Network Details
Commission Type
CPA, CPL, CPC
Payment Frequency
Prepayment, Weekly
Tracking Link
http://track.furthermobi.com
Affiliate Managers
Lisa Zhao

Grace Liu

Angel Zhao
Rating Distribution
Excellent

69

Very good

0

Average

1

Poor

0

Terrible

0
Offers

Payout

Tracking

Support
Working directly with Furthermobi is the best thing I've done. My AM always gives me prompt support and I can always get the vertical I am looking me. Greatest network!
furthermobi can only deserve 5 stars!
time weekly is weekly Payment
Good mobile network, and very good support.
I recommend working with furthermobi.
next payment number 4 best network thanks Lisa
Offers: (5 Starts)
Payout: (5 Starts)
Tracking: (5 Starts)
Support: (5 Starts)
Best
Furthermobi has a very large variety of offers and the rates are pretty good. Though there are so many offers, their offer filter makes it very convenient to find the offers I have interest in. And My AM always gives prompt response to my issue.
Awesome network!
Furthermobi,definitely 100% yes, is an expert in affiliate marketing and grew my revenue significantly week after week.If you do wanna earn $$$$$, the first thing is to sign up with Furthermobi. Hope you will be lucky like me.
Very good and solid network. Many offers, speedy payment.
I will do continuous cooperation with Furthermobi.
It's honestly the best CPA Network out there. The support is incredible, they will help you with anything, they will add anything you request etc! 5 stars network.
The offers are great and always updated.
Payment are always on time.
I can't find a precise word to describe the feeling of being a member of Furthermobi ?
a huge pool of offers, super competitive payouts, timely payments, friendly AM.
In a word, it's the best network I have ever joined in.
There are many great offers and high payout.
I got the payment on time.
Need more 1 click offers.
I have been extremely impressed with Furthermobi. Through my experience, my account manager- Grace been putting all the effort to completed her task even during out of office hour. She never failed to give me a quick response whenever I her help. I know is hard to get a good working ethics/attitude employer like her. I'm glad that I had this opportunity to work with Furthermobi.
I can definitely say that I'd recommend Furthermobi Partners to anyone. Furthermobi definitely deserved high rating from us!
Best Regards,
Ming - Marvel Media
I am an advertiser and have been working with Grace from Furthermobi for some time now and can only say that it's a pleasure to deal with her. They are extremely proactive and efficient. Grace is always willing to try our offers and do her best to get us traffic. They also have great quality traffic and I look forward to continuing to work with them. I'd highly recommend Grace and Furthemobi as an affiliate partner.
Awesome mobile affiliate network!
Excellent offers, payouts and on time payment!
I have chat with my affiliate manager "Lisa" and she is such a nice person to work with.
Thank You Furthermobi

I am an advertiser and I should let you know that Furthermobi is a very competitive network to work with.
My account manager is Grace LIu and she is so responsive, good worker and effective as we need.
She is quick and we always have set our campaigns up in a few hours and start receiving high volume and good quality traffic always. As well, she carry out all the optimizations we request so it is very nice work with her.
Good for her and the affiliates she work with.
Maite Campos.
As far as I know, Furthermobi is the best CPA network. I never get any problem with them.
They update new offers very soon. And every 2 weeks I get a top offer list, which helps me a lot. All 5 star network!
Lot of good offers, payments on time, recommend!

Copyright © 2010-2020 Affpaying.com All rights reserved.